Free delivery on all orders
Shop
Red Radnor FAM Socks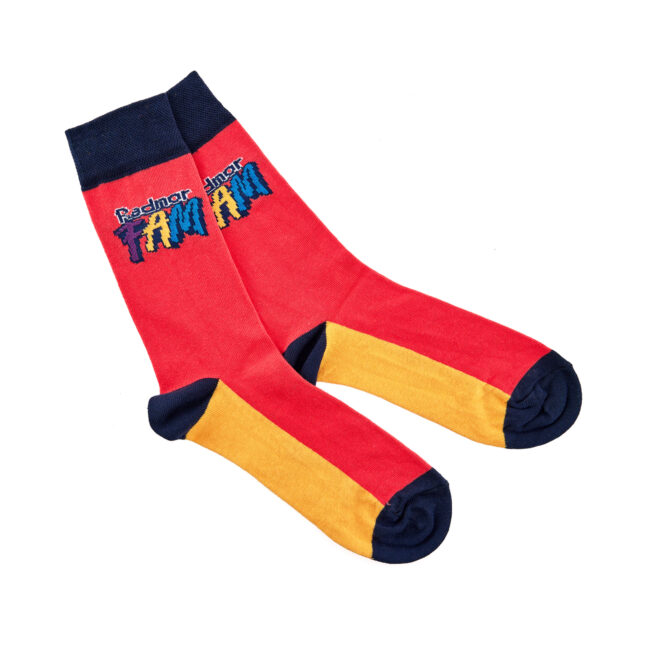 Free delivery on all orders
Radnor Merch
Red Radnor FAM Socks
Looking for a stylish and comfortable way to show off your love for Radnor Fam? Look no further than the brand new Radnor Fam merchandise socks! These high-quality socks are made in the UK with 80% combined cotton, making them both comfortable and breathable. One size fits all. Read more
Looking for a stylish and comfortable way to show off your love for Radnor Fam? Look no further than the brand new Radnor Fam merchandise socks! These high-quality socks are made in the UK with 80% combined cotton, making them both comfortable and breathable.
What sets these socks apart is their eye-catching design. The Radnor Fam logo is prominently displayed on the side of the sock, making it visible when you wear them. The logo is bold and stylish, reflecting the brand's unique aesthetic.
But that's not all. These socks are available in two different colours, so you can choose the one that best fits your personal style.
Overall, the new Radnor Fam merchandise socks are a must-have for any fan of the brand. With their high-quality materials, eye-catching design, and comfortable fit, these socks are the perfect addition to any wardrobe. So why wait? Order your pair today and start showing off your Radnor Fam pride in style!
FREE UK Mainland Delivery (Except Scottish highlands)
Standard Delivery times For all stocked items, orders will be despatched within 3-5 working days from placing an order.
Delivery times vary by delivery address.
PLEASE NOTE: Bank holidays, national holidays and peak seasonal shipping periods will produce longer delivery times. For any more information on delivery please contact us on shop@radnorhills.co.uk with the details of your order.
RETURNS: for details of returns please see Delivery & Returns
Material Information
| | |
| --- | --- |
| Option | One size |
| Cotton | 80% |
| Polyamide | 17% |
| Elastane | 3% |