Heartsease Farm Welsh Brunch Hash
Make Our Heartsease Farm Welsh Brunch Hash
Ingredients
1. 1 pack Edwards Traditional Pork Sausages
2. 1 pack Edwards Dry Cured Bacon, chopped
3. 1 pack Edwards Dry Cured Bacon, chopped
4. 500g Blas y Tir All-rounder potatoes, cubed & lightly par-boiled
5. 200g Blas y Tir leeks, sliced
6. 100g cherry tomatoes, halved
7. 2 Free-range Eggs
8. 20g Castle Dairies Salted Welsh Butter with Halen Môn Sea Salt, plus extra for the spread with the lemon and chives
9. A pinch of lemon zest
10. A pinch of chopped chives
11. Freshly baked farmhouse loaf, sliced to dunk
12. 1 bottle of Radnor Heartsease Traditional Lemonade to serve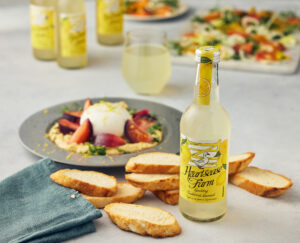 Method
Cook the sausages and chopped bacon in a pan, then set aside. Using the same pan, cook the potatoes on medium heat for about 10 minutes; add in a good knob of the salted butter about halfway. Cook until the potatoes are soft and golden on the outside.
Add the sausages and bacon back into the pan, sprinkle in the sliced leeks and tomato halves and cook for a further minute or two.
Make wells for the eggs, and crack them in. The best way to get the egg cooked beautifully is to pop a lid on the pan (or the tray on which you set your meat aside, should your pan not have a lid). Cook on medium heat until the egg, is to your liking (3-5 minutes). Serve to the table in the pan for all to dig in!
For the lemon and chive butter… add a pinch of lemon zest and chopped chives to some softened salted butter. Mix well and spread on your sliced farmhouse bread before dunking in the hash… great for mopping up the delicious juices at the end too! This can be made ahead in a batch and stored for other dishes too.
Serve with Heartsease Traditional Lemonade. Enjoy!